Journal of General Virology
Journal of General Virology is led by a carefully selected, prestigious Editorial Board who ensure rigorous, high-quality peer review, aided by the Society's in-house publishing team. Authors benefit from rapid publication times and very liberal Open Access policies, which comply with all funder and institutional Open Access mandates worldwide, and are not subject to page limits, page charges or colour fees.
Tasha Mellins-Cohen, Director of Publishing at the Microbiology Society, said "The Journal of General Virology is a fantastic journal with a long history of publishing virology research from around the world, and we are very excited to partner with the GfV to raise the profile of the Journal with our colleagues in Germany, Austria, Switzerland and other German-speaking areas."
GfV members will now receive a 20% discount on the article processing charges for publishing in Journal of General Virology.

AiCubator – a new way of collaboration in the anti-infective aera
You are an academic group or a recently formed biotech start-up with antiviral or antibacterial projects?
You have identified a new breakthrough mechanism of action with supporting data?
You want this invention to become a therapy for patients?
You are looking for support and guidance on your way?  
Then we encourage you to apply for AiCubator resident status to get support and industry knowledge from one of the leaders in anti-infective drug development.
Drug discovery projects for the treatment of viral infections in immunocompromised patients in the following indications:
– BK Virus
– Adenovirus
– Other viruses
We welcome projects, that are scientifically attractive, but too early for licensing deals.
Keen to apply for AiCubator Resident status? Download the application form from the website www.aicuris.com.
Describe your innovation and needs in the form.  
Additional questions?
aicubator@aicuris.com
More information?
www.aicuris.com 
Send your application to aicubator@aicuris.com until the end of 2023 and become one of the AiCubator residents by 2024.
Work together with anti-infective drug development experts
APPLY NOW!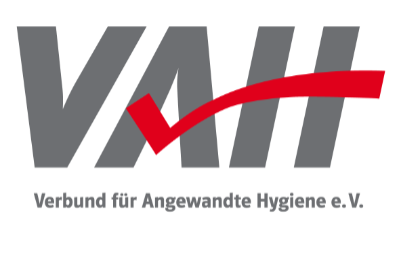 Verbund für angewandte Hygiene e.V.
Der VAH fördert die anwendungsorientierte wissenschaftliche Bearbeitung und Umsetzung hygienischer und hygiene-relevanter Themen. Dazu gehören die Erarbeitung von Prüfvorschriften und Bewertungsmöglichkeiten für Verfahren der Dekontamination, Desinfektion, Antiseptik und Sterilisation, der Erfahrungsaustausch und die fachübergreifende Kooperation mit relevanten medizinischen und nichtmedizinischen Disziplinen. Nicht zuletzt ist die Planung und Durchführung von Fort- und Weiterbildungen und die Beantwortung von Anwenderfragen ein wichtiges Aufgabengebiet.
Die Arbeit der Desinfektionsmittel-Kommission im VAH ist den Zielen des öffentlichen Gesundheitsschutzes verpflichtet. Durch die Zertifizierung von Desinfektionsmitteln und die Herausgabe der VAH-Liste soll sichergestellt werden, dass nur hygienisch-mikrobiologisch bzw. hygienisch-virologisch geprüfte Desinfektionsverfahren mit nachgewiesener Wirksamkeit zum Einsatz kommen. Die Auswirkungen auf Mensch und Umwelt bei der Anwendung, z.B. durch Verhinderung von Überdosierungen, werden ebenfalls berücksichtigt.
Zu den Mitgliedern im VAH gehören wissenschaftliche Fachgesellschaften und Berufsverbände sowie Experten aus den Bereichen Hygiene, Öffentliches Gesundheitswesen und Infektiologie.